Social Distancing & Travel Restrictions
COVID-19 Related Travel Restrictions & Recommendations
The state of New Mexico is committed to mitigating the spread of transmission of COVID-19 by:

Strongly advising self-isolation for persons travelling into New Mexico from high-risk states. This pertains to anyone travelling by airplane, public transportation, or vehicle.
Calling on all people – both visitors and returning New Mexicans — to comply with the state's masking and distancing guidelines while in New Mexico, in addition to whatever local guidelines and requirements they may encounter. It is incumbent upon visitors to the state and returning New Mexicans to inform themselves of state and local requirements.
Self-Isolation & Self Quarantine Guidelines
Anyone arriving in New Mexico is recommended to undertake a self-quarantine period of at least 10 days or for the duration of their stay in the state, whichever is shorter. Self-quarantine is a physical separation from others in a residence or place of lodging.
Anyone arriving in New Mexico is likewise strongly advised to seek out a COVID-19 test at their earliest convenience. Testing locations and availabilities are available at togethernm.org.
Travel should be limited to only what is essential for work and family. Non-essential travel raises the risk of spreading and contracting COVID-19 — and enhances risk of New Mexico counties being forced to adopt more restrictive COVID-19 requirements on day-to-day activities — and should be avoided.
The state of New Mexico defines high-risk states and low-risk states as a public service to help advise travelers and returning New Mexicans of the risk of COVID-19 in different states.
High-risk states: High-risk states are those with a 5% positivity rate or greater over a 7-day rolling average, or a positive test rate greater than 80 per 1 million residents.
Lower-risk states: Lower-risk states are those with a 5% positivity rate or lower over a 7-day rolling average and a positive test rate lower than 80 per 1 million residents.
SELF-QUARANTINE GUIDANCE:
Any person who is self-isolating or self-quarantining:
Should not leave the residence or place of lodging in which they are self-quarantining only for the purposes of medical care.
Should not allow others into the residence or place of lodging in which they are quarantined except for those providing medical care, emergency response or other individuals designated by the Department of Health.
May allow family or household members to visit, but those visitors must then self-quarantine themselves for a period of no less than 10 days, while watching for symptoms for the full 14 days.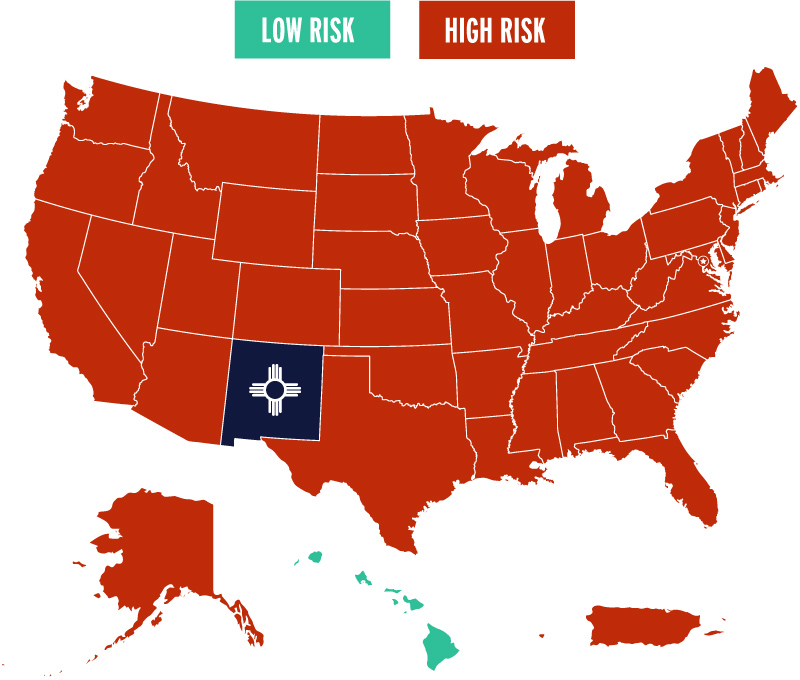 High-risk States as of 03-23-2021
Alabama
Alaska
Arizona
Arkansas
California

Colorado

Connecticut

Delaware
District of Columbia
Florida
Georgia
Idaho
Illinois
Indiana
Iowa
Kansas
Kentucky
Louisiana
Maine
Maryland

Massachusetts 

Michigan
Minnesota
Mississippi
Missouri
Montana
Nebraska
Nevada
New Jersey
New Hampshire
New York
North Carolina
North Dakota
Ohio
Oklahoma
Oregon
Pennsylvania
Puerto Rico

Rhode Island

South Carolina
South Dakota
Tennessee
Texas
Utah
Virginia
Vermont
Washington
West Virginia
Wisconsin
Wyoming
This does not preclude the requirement for persons to self-isolate or self-quarantine due to a close contact with a person that has tested positive for COVID-19, per the guidance published by the New Mexico Department of Health.