Note: The information contained on this page is for archival purposes only and it is no longer maintained or updated.
MAT Overview
On March 11, 2020, Governor Michelle Lujan Grisham declared a Public Health Emergency in NM and invoked the All Hazards Emergency Management Act by directing all cabinets, departments and agencies to comply with the directives of the declaration and the further instructions of the Department of Health (DOH). As part of the response, the DOH launched the Medical Advisory Team (MAT), which is building a statewide delivery system to effectively manage the surge in COVID-19 cases and resources and assets as they become scarce.
The MAT consists of state officials, healthcare providers, and community members throughout NM, who are tasked with developing responding to three questions:
How do we best use existing capacity and resources?
How do we create more capacity and resources?
How do we allocate capacity and resources when they become scarce?
NM Hospital System Capacity Self-Assessment
The New Mexico Medical Advisory Team assesses statewide hospital capacity weekly to provide State officials timely data regarding the status of hospital resources in New Mexico. The MAT evaluates a variety of hospital capacity criteria, which are then presented in the graph below. For more information on the MAT's methodology and criteria, please click here.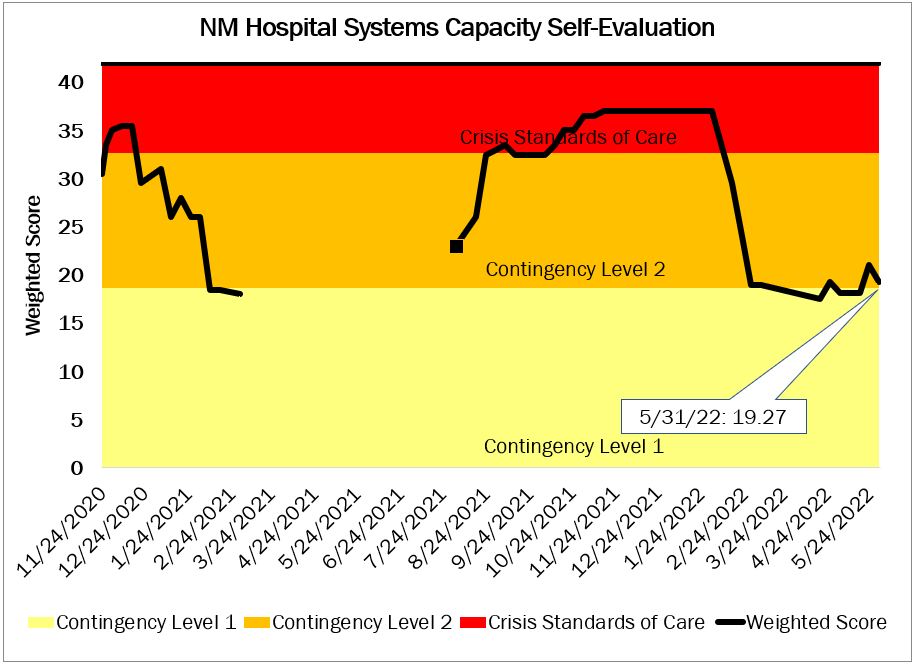 Crisis Standards of Care
For information regarding the Crisis Standards of Care please click here.
For information related to healthcare workforce expansion and protections please click here.
Copyright New Mexico Department of Health