No-Cost NMDOH Home COVID-19 Testing Program
Note: The information contained on this page is for archival purposes only and it is no longer maintained or updated.
No-Cost NMDOH Home COVID-19 Testing Program
The State of New Mexico is offering a Home COVID-19 Testing Program, at no cost, to unvaccinated New Mexico state employees who need to do routine (weekly) screening tests.
This 'at-home' testing option is offered at no cost from the State of new Mexico – you will not be asked for your credit card information. If the system does ask you for payment, this is an error; close your browser and try again. You will need internet access to schedule the virtual visit for the observed testing. The company, eMed, will report the results (as required by law) to the state and provide a digital copy for your records. eMed requires a photo ID so that the test supervisor can confirm the identity of the person taking the test on the video call. Any photo ID will work, whether it is government-issued or from your place of work or school.
How it works:
Enter your name and contact information below
A pack of six rapid antigen tests will be sent via expedited shipping (expect 5-7 days to process and arrive)
When you're ready to test, follow the test instructions for a virtual visit with an eMed test supervisor. They will show you how to perform the test, answer questions, and record the results.
Repeat for up to six weeks.
If needed, re-order six more tests prior to using the last test to ensure adequate supplies.
Note: availability of the program is based on the state's ability to acquire tests and funding – if not available, other options include Vault (https://learn.vaulthealth.com/nm/Vault) or other providers (COVID-19 Screening & Testing | NMDOH – Coronavirus Updates (nmhealth.org)).
Enroll Now:
To enroll, fill out the registration information below:
NOTE: The form below has been disabled and is only intended for archival purposes.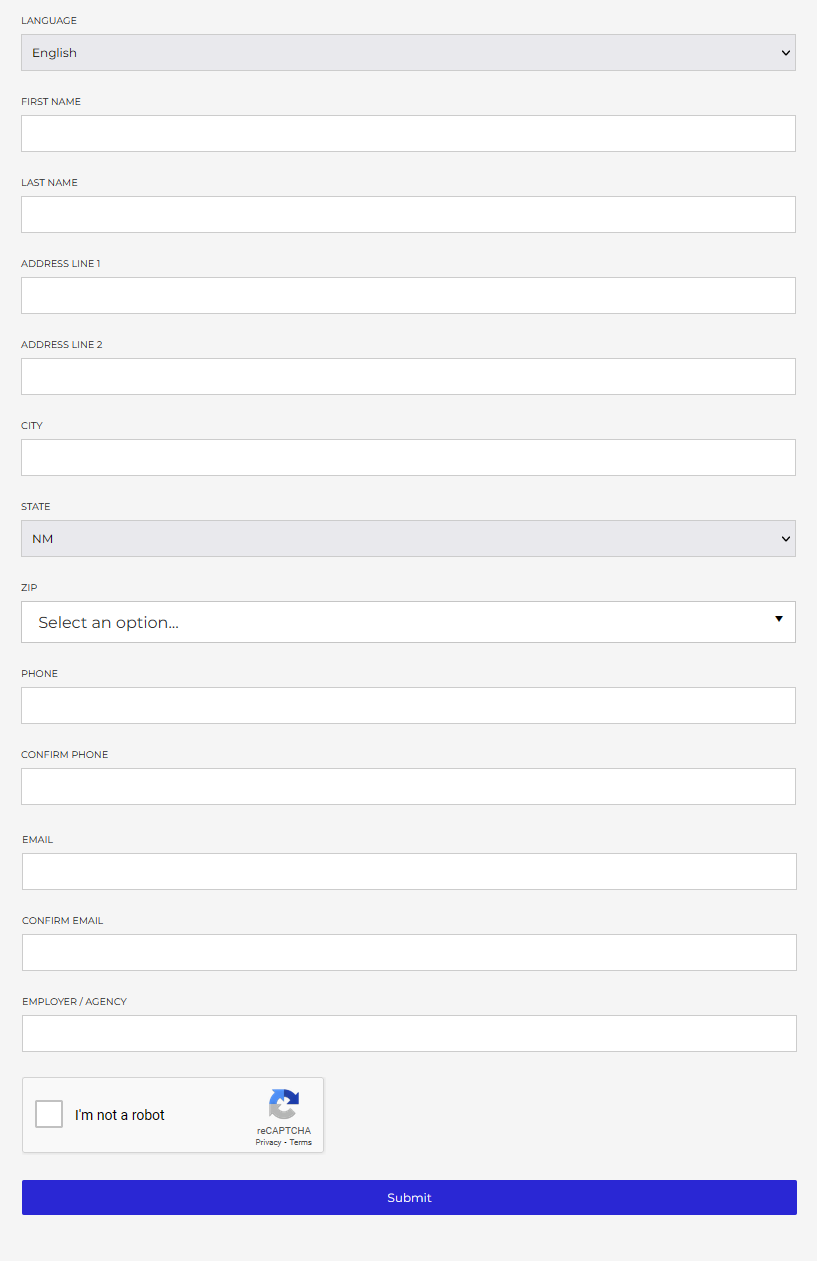 Additional Information
By enrolling, you authorize release of your name, phone number, mailing address, and email address, for the purpose of performing SARS-CoV-2 testing and reporting such results to relevant parties: NMDOH, eMed (guided testing), and McKesson Medical-Surgical (distributor).  You are not required to consent to the release of these records. However, if you do not consent, NMDOH will be unable to provide the Home COVID-19 Testing for SARS-CoV-2 to you.
The results of your test will be shared with you and NMDOH through a web portal or mobile software application, as required by law.
If your results are positive, please contact a doctor immediately.  Only a doctor can diagnose you with COVID-19 and give you information about what you should do next.  As further outlined in the Fact Sheet for Patients, negative results mean that the virus was not detected in your specimen. It is possible for the test to produce an incorrect negative result (called a "false negative") in some people who have SARS-CoV-2. If you test negative but have symptoms of COVID-19 or concerns about exposure to SARS-CoV-2, contact a doctor to determine if you should be retested or take other actions.
eMed guides the test but does not give medical advice or provide medical care. You should talk to a doctor about any health care needs you may have, including any related to receiving this test. NMDOH is not responsible for any medical care you receive.
By enrolling, you agree: (i) that you have read and understand the information and related documents; (ii) to use the provided test kits to perform testing as directed by eMed; and (iv) that NMDOH and eMed may disclose your test results as outlined above.
You voluntarily agree to participate in this testing program for SARS-CoV-2.  You have the right to discontinue participation at any time by ceasing to use the provided test kits – test kits that are not used do not need to be returned to NMDOH and may be disposed of as regular trash.
Copyright New Mexico Department of Health