Click here to download the Covid-Safe Practices For Individuals And Employers
Haga Clic Aquí para Descargar Prácticas Seguras A Seguir Durante La Emergencia Covid-19 Para Empleadores Y Personas En General
The guidance in this document reflects the New Mexico Department of Health's epidemiologists' recommendations based on current CDC guidance, scientific evidence, New Mexico's experience to date with the disease and a careful approach that acknowledges that there is still limited understanding of the virus, how it spreads, and who may be vulnerable to significant illness and harm.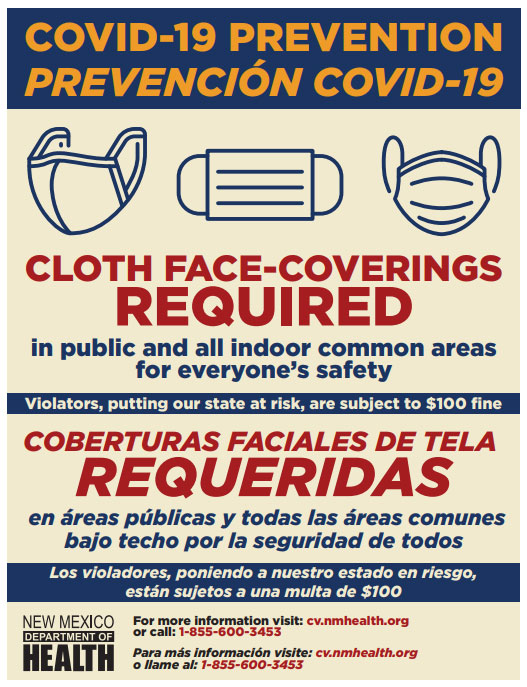 COVID-19 Prevention Posters
Cloth Face-Coverings Required in public and all indoor common areas for everyone's safety. Violators, putting our state at risk, are subject to $100 fine.
COVID Safe Practices for all New Mexicans
Living in a COVID-positive world requires discipline from all of us. In order for the rate of spread of COVID-19 to decrease enough for businesses to safely reopen, it is imperative that New Mexicans stay home as much as possible.
Stay Home
In general, stay at home: avoid unnecessary travel and always stay at home when you are sick (except for medical emergencies).
Wash your hands frequently.
Avoid touching your eyes, nose, and mouth with unwashed hands.
Provide for all meetings to take place remotely whenever possible.
Cover your cough or sneeze with a tissue, then throw the tissue in the trash.
Clean and disinfect frequently touched objects and surfaces.
Watch for symptoms of COVID-19:
Fever
Cough
Shortness of breath
Sore throat
Headache
Muscle pain
Chills
Repeated shaking with chills
Loss of taste or smell
If You Must Go Out:
Individuals are required to wear a face covering or mask in public spaces except when eating, drinking or swimming, or unless otherwise advised by a health care provider.
Maintain a 6-foot distance from others.
Avoid gatherings.
Protect vulnerable populations by finding ways to connect without face-to-face contact.