Self Test Information – Everything you need to know about self tests.
2019 Novel Coronavirus Disease (COVID-19)
COVID-19 is a highly infectious and fast-spreading virus. Symptoms and their effects can range from mild to severe and in certain cases result in extreme health complications and death. 
Find a COVID-19 Test in New Mexico.
Knowing if you have COVID-19 can help you seek proper treatment and prevent you from spreading the virus to your family and community.
Frequent COVID 19 Questions
Positive Self Test Reporting
Did you use a home test other than Vault that showed you were positive for COVID-19? Click Here
Learn about monoclonal antibody treatments for COVID-19 and determine if you're eligible. Click Here.
Public Health Orders
Here you will find the current guidelines and restrictions established by the most recent Public Health Order.
COVID Safe Practices
Living in a COVID-positive world requires discipline from all of us. In order to decrease the spread of COVID-19, allowing businesses, restaurants, and schools to reopen safely, it is imperative we adhere to COVID safe practices.
The data dashboard currently includes county-by-county breakdowns of positive cases by age, gender and ethnicity.
If you wish to report non-compliance within a business, a violation of the mass gatherings ban, or other violations of the public order, you may report them here. 
SANTA FE — The Biden administration announced that starting today, all U.S. households can order a total of four at-home COVID-19 tests that will be mailed directly to them for free. Tests will begin shipping next week and can be ordered at Free at-home COVID-19...
--
Positive Cases of COVID-19 in New Mexico
COVID-19 Test Results in NM
| | |
| --- | --- |
| Positive  | — |
| Total Tests * | — |
Click Here to View Positive Cases By County
| | |
| --- | --- |
| COVID-Related Deaths in NM | — |
*Numbers are cumulative persons tested through —. Test results are from the state Scientific Laboratory Division of the New Mexico Department of Health, TriCore Reference Laboratories, LabCorp, Mayo Clinic Laboratories, Quest Diagnostics, and BioReference Laboratories.
Latest Medical/Scientific Reports
NMDOH is committed to informing New Mexico residents with the latest data for positive cases, hospitalizations, and deaths.
Long-Term Care Guidelines & Resources
The state recognizes the importance of being able to visit your loved ones. To ensure a safe gradual reopening, coordination with multiple state agencies and certain criteria must be met.
School Rentry Resources
Getting children back into the classroom is a priority for the State. The safety of all children is of utmost importance. As the Public Education Department continues to update school reentry guidance, we advise visitors to check back daily for updates.
Jobs & Employment Resources
In the midst of this unprecedented public health crisis, the negative impact to the economy has caused many individuals and families to suffer severe financial difficulties. The state and private companies have taken measures to mitigate financial hardship and the state is diligently working to identify additional sources of relief and to advocate for a full measure of federal support.
1-833-551-0518
For non-health related COVID-19 questions
Covid.vaccines@state.nm.us
COVID-19 related inquiries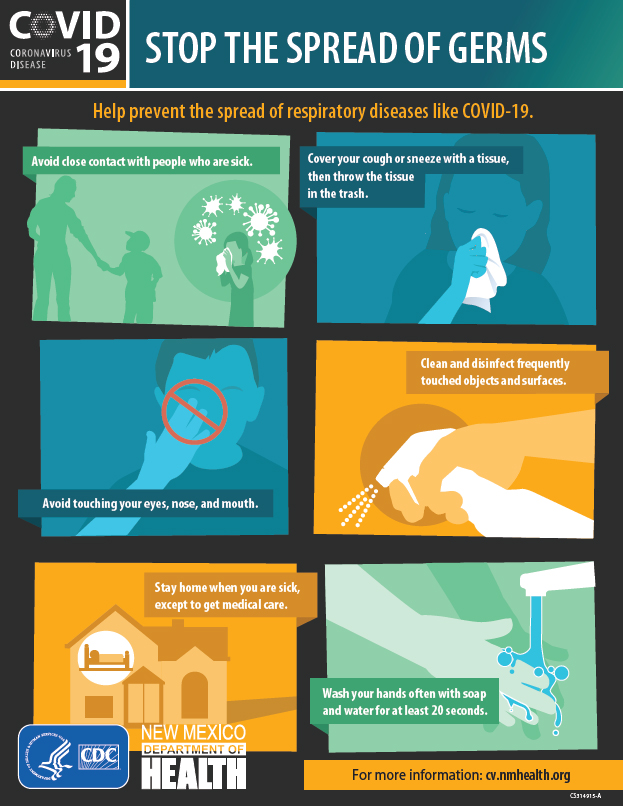 Bilingual Poster
Help prevent the spread of respiratory diseases like COVID-19.
Click Here to Download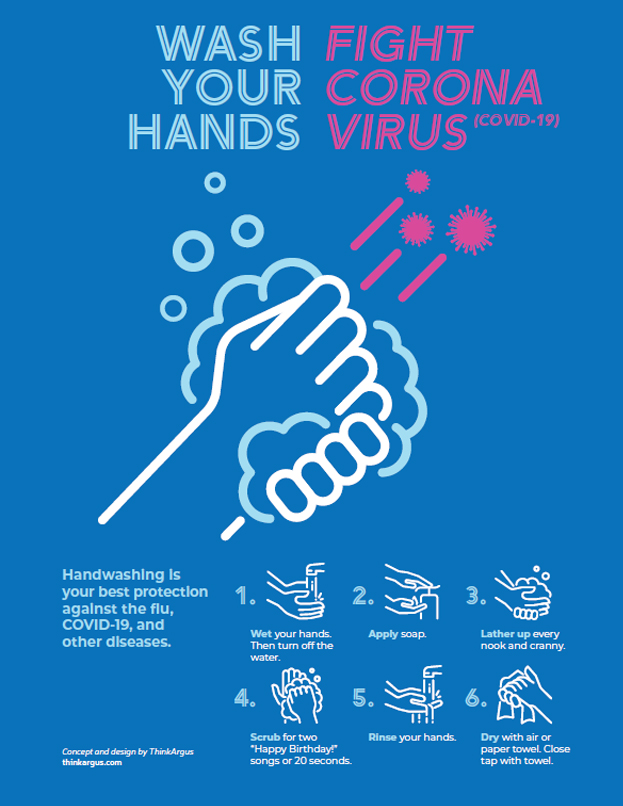 Poster
Handwashing is your best protection against the flu, COVID-19, and other diseases.
Click Here to Download
What we are doing at NMDOH
Statewide Communication
The New Mexico Department of Health (NMDOH) is actively responding to the novel coronavirus that is causing community spread in the United States including New Mexico. Since late January, NMDOH publishes daily press releases and updates the data dashboard and other information on our website to help New Mexicans keep up-to-date on the current situation and on professional guidance to stay healthy. Additionally, two 24/7 Coronavirus hotlines have been created to answer any health-related and non-health-related COVID-19 questions or concerns.
Web conferences with hospitals, emergency medical services, homeless organizations, correctional and detention facilities, childcare organizations, universities, schools, and other stakeholders are held as needed to provide updates and guidance for preparing and responding to COVID-19 in New Mexico. We use the Health Alert Network for the healthcare community to update them on current response activities and guidelines for diagnosis, infection control, and notification procedures should they identify a high-risk case.
Monitoring and Screening
New Mexico has identified cases of COVID-19. We are currently working to identify cases as early as possible and implement isolation procedures to prevent further spread of the virus.  Due to increased statewide test capacity, all New Mexico residents can receive testing through their provider or other screening and testing sites that are available throughout the state. Testing is available to individuals with symptoms consistent with COVID-19 and without symptoms.
We are also actively monitoring the hospital bed capacity in New Mexico and the availability of facemasks, respirators, and other personal protective equipment needed for infection control. We are working with healthcare facilities to be prepared if there are shortages and to implement alternative sites for healthcare if needed, and to increase the supply of personal protective equipment.
Since March 12, 2020, New Mexico Governor Michelle Lujan Grisham has issued a series of public health orders and executive orders in an effort to mitigate the widespread community transmission of COVID-19.
Emergency Response Planning
Based on years of planning for the next influenza pandemic, a virus that is similar to the novel coronavirus, we have adapted our plans based on current knowledge of the novel coronavirus that causes COVID-19.  We have focused on measures to track the cases identified in New Mexico, to prevent spread of infections through social distancing, to ensure continuity of the healthcare system where patient volumes may require supplemental care sites, and to anticipate special approaches to effectively manage the needs that New Mexicans have for information and healthcare services. We are also stepping up our efforts to communicate what we know about COVID-19.