Stay-At-Home
Frequently Asked Questions
Stay-At-Home
Essential Businesses List
2019 Novel Coronavirus Disease (COVID-19)
A new coronavirus is causing an outbreak of pneumonia. The virus was first identified in December 2019, among people who visited a seafood and animal market in Wuhan City, China. Health authorities have confirmed that the virus is able to spread from person to person. Cases have been identified in the United States.
403
Positive Cases of COVID-19 in New Mexico
COVID-19 Test Results in NM
| | |
| --- | --- |
| Positive * | 403 |
| Negative | 14,375 |
| Total Tests ** | 14,778 |
Click Here to View Positive Cases By County
| | |
| --- | --- |
| COVID-Related Deaths in New Mexico | 7 |
*Tests no longer need to be verified positive by the CDC. The Department of Health reporting has been amended to reflect this change.
**Numbers are cumulative persons tested through April 2, 2020. Test results are from the state Scientific Laboratory Division of the New Mexico Department of Health and TriCore Reference Laboratories.
COVID-19 Testing Information
Where are the testing sites & locations?
For a full listing of testing sites in your area along with hours of operation, and contact information, please visit the directory by clicking the link below.
What should I know before I go?
Sites are designed to keep you and health care workers safe. Sometimes you stay in your car. Other sites will screen you before you come indoors.
I've been tested. Where can I get my results?
NMDOH has deployed an online tool for you to look up your results quickly.
1-833-551-0518
For non-health related COVID-19 questions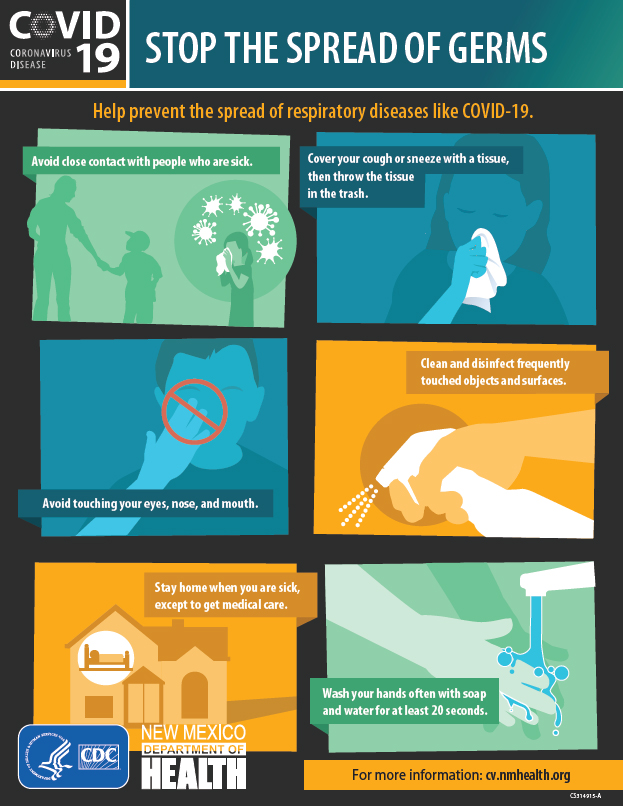 Bilingual Poster
Help prevent the spread of respiratory diseases like COVID-19.
Click Here to Download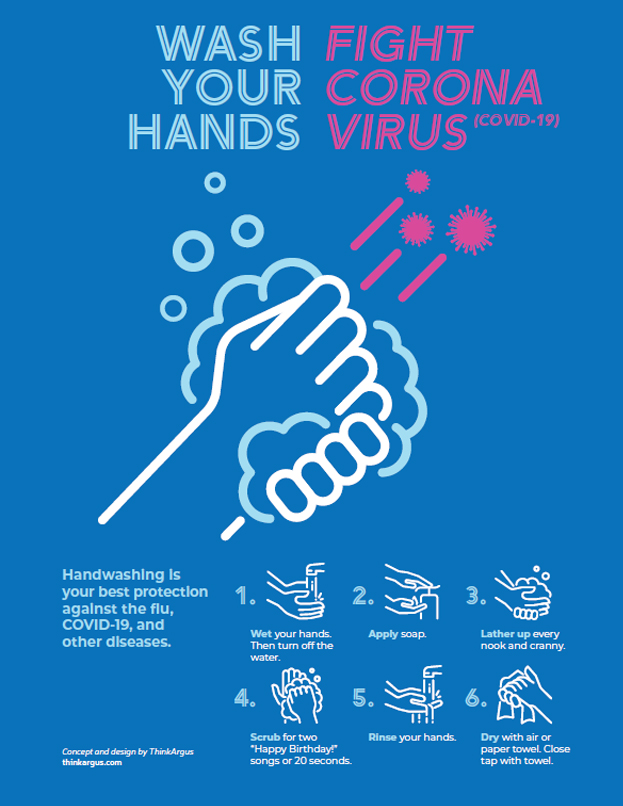 Poster
Handwashing is your best protection against the flu, COVID-19, and other diseases.
Click Here to Download
What we are doing at NMDOH
Statewide Communication
The New Mexico Department of Health (NMDOH) is actively responding to the novel coronavirus that is causing community spread in many countries around the world, and a small number of cases in the United States. Since late January, NMDOH began publishing weekly press releases and information on our website to help New Mexicans keep updated on the current situation and on professional guidance to stay healthy.
We have also held multiple web conferences with hospitals, emergency medical services, childcare organizations, universities, and schools to provide updates, guidance for preparing and responding to the possibility of cases in New Mexico, and to answer questions that our response stakeholders have. We have used the Health Alert Network for the healthcare community to update them on current response activities and guidelines for diagnosis, infection control, and notification procedures should they identify a suspect case.
Monitoring and Screening
New Mexico has identified cases of COVID-19. We are currently working to continue identifying cases as early as possible and implement isolation procedures to prevent further spread of the virus. Those procedures currently focus on 1) monitoring asymptomatic travelers from countries with CDC Travel Health Alerts during the time they might develop disease if they were exposed to the virus and 2) supporting screening and infection control procedures in healthcare settings to identify illness in travelers or contacts of known COVID-19 patients. We are also testing many symptomatic individuals to monitor the possibility of community spread of the virus in New Mexico.
NMDOH is being notified of returning travelers through our 24/7 call line by both international and domestic travelers and healthcare providers. Returning China, Iran, and some cruise ship travelers are also being screened by Customs and Border Protection and the Centers for Disease Control and Prevention and we are notified when they arrive in the U.S. These travelers are asked to stay home for 14 days from the time they left a high risk country or cruise ship and refrain from unnecessary interactions with other people until this period is completed. NMDOH is in daily contact to confirm the absence of fever or respiratory symptoms. We are also actively monitoring the hospital bed capacity in New Mexico and the availability of facemasks, respirators, and other personal protective equipment needed for infection control. We are working with healthcare facilities to be prepared if there are shortages and to implement alternative sites for healthcare if needed, and to increase the supply of personal protective equipment.
On March 12, 2020, New Mexico Governor Michelle Lujan Grisham announced COVID-19 Self-Isolation Recommendations in an effort to mitigate the widespread community transmission of COVID-19. A 14-day self-isolation is recommended for individuals based on criteria that includes previous or planned international or domestic travel or contact with a person known to be positive for COVID-19. These recommendations are being enforced among all state employees known to have traveled and we encourage others to follow the same guidance.
Emergency Response Planning
Based on years of planning for the next influenza pandemic, a virus that is similar to the novel coronavirus, we have adapted our plans based on current knowledge of the novel coronavirus that causes COVID-19. We have focused on measures to track the cases identified in New Mexico, to prevent spread of infections through social distancing, to ensure continuity of the healthcare system where patient volumes may require supplemental care sites, and to anticipate special approaches to effectively manage the needs that New Mexicans have for information and healthcare services. We are also stepping up our efforts to communicate what we know about COVID-19.